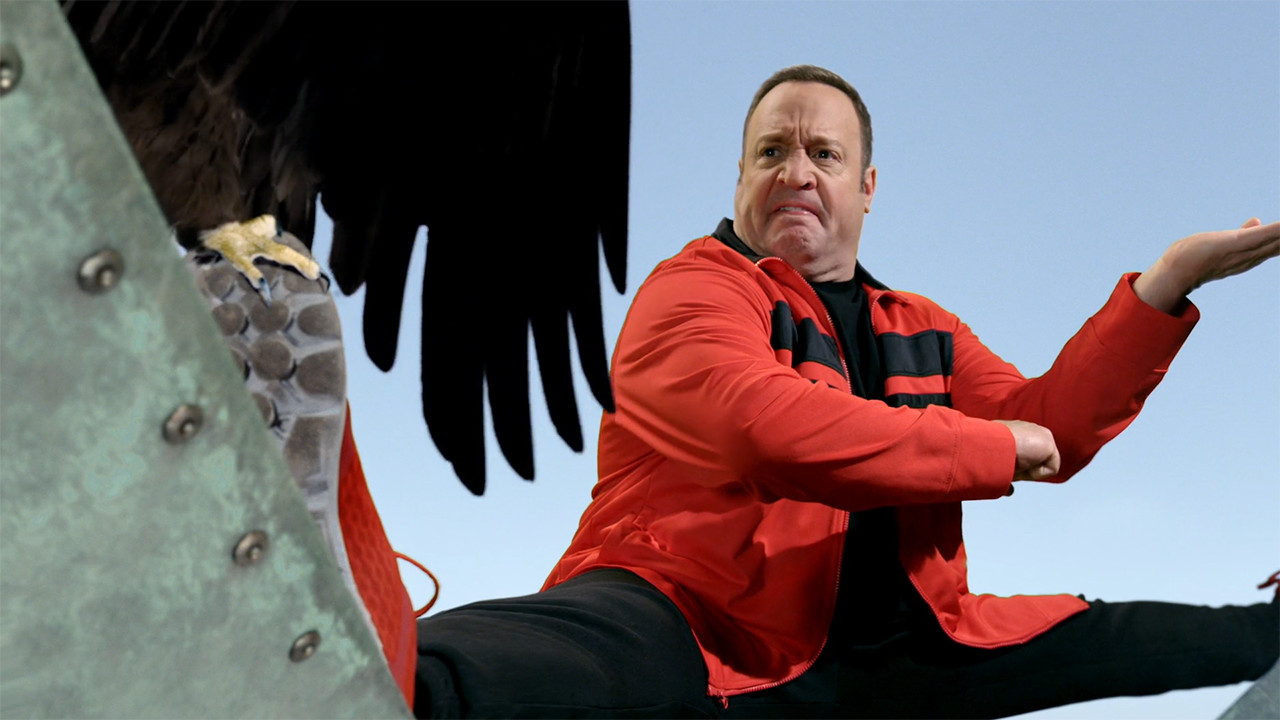 GSA on Landing an Eagle for CBS' "Kevin Can Wait"
At GreenScreen Animals, we understand that telling stories with moving images is like cooking; all the ingredients have to come together in just the right way to achieve the desired result. With time and experience, we've developed an approach — a recipe — to filming animals that ensures success, as was the case when we recently captured footage of an eagle for the CBS show, "Kevin Can Wait."
Now in its second season, "Kevin Can Wait" is a family comedy starring Kevin James as a retired cop & father who is suddenly single. He goes back to work as the co-owner of a security company with his former police partner.
We received a request to work on Episode #224 of the series entitled "Forty-Seven Candles," which aired 3/26. In the sequence, Kevin is describing his "bucket list" and starts fantasizing about performing a Jean Claude Van Damme split on the crown of the Statue of Liberty. While in this pose, a bald eagle lands on his foot, faces off with Kevin, then flies away.
We faced our first challenge right from the beginning of the project when we were asked to provide a Bald Eagle. Bald Eagles are protected, and shooting with them is prohibited in California, so we set about casting a similar-looking eagle. Normally, we would use a Fisher Eagle because it has similar features the Bald Eagle. However, none of our locally approved trainers had one available. So, we instead chose a Tawny Eagle, who was located in Southern California. We had worked with this particular eagle and her trainer before and knew they were both exceptionally talented. One of the best aspects of having our business located in California is that we have access to amazing animals, as well as caretakers and handlers, who are highly skilled, and well-regulated.
We also opted to use an Auger Hawk as the eagle's back-up. This was a perfect solution and a precaution we often take when working with animals. We often choose to have a back-up for safety in case the principal animal doesn't perform correctly. We prefer doing our shoots this way. The Auger Hawk was there as insurance in case the takeoff or landing didn't work as planned. They are smaller birds and more agile in flight.
The "Kevin Can Wait" post team was brilliant. We worked on this project with Co-Producer Laura Gibson and Tommy Tran, the show's VFX Supervisor from FuseFX, which is the visual effects company working on the overall effect. When they discovered they were not able to use a Bald Eagle, they used stock footage of a Bald Eagle in the wild flying through the sky and then cut to our Tawny Eagle as it landed on Kevin James's foot. They then cut back to the close-up shot of the wild Bald Eagle as it stared down Kevin. Finally, they cut back to our eagle as it flew away and exited frame.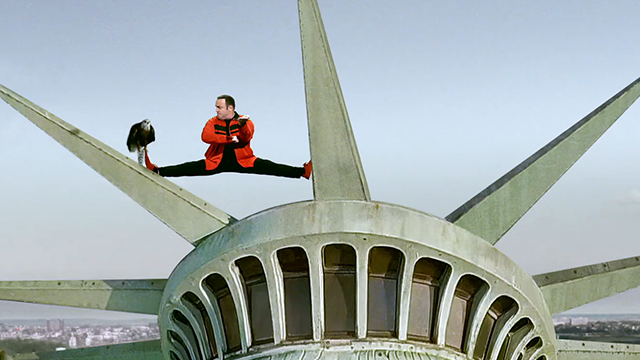 This was a one-day shoot which we set up at a large, enclosed green screen stage in the San Fernando Valley. Since the birds were flying in the shot, we did not have to construct any customized flooring or platform, which is normally a major element. The stage was pre-lit and we put the finishing touches on that morning. In addition to the performance, our main focus was giving the RED camera (www.red.com) sufficient light because we were over-cranking the shot. Whenever an animal moves quickly in our sets, we shoot at a higher frame rate. This gives extra information to the compositing team and eliminates any motion blur, which is a key issue. In this instance, the birds needed to be well-lit and in focus for about 15 feet, so we needed a lot of light and power to accommodate for this. For the shoot, we had about 15 crew members and two from the show. We shot at 96 frames per second on the RED camera at a 5 to 1 compression ratio, giving the compositor the option of using a great amount of information.
At GSA, we know how to save the client money and what is necessary to pull off a successful shoot. We speak "trainer" and we know how to communicate with the animals' handlers to get what the client needs. On this particular shoot, adequate pre-training was also key. The challenge was for the eagle to fly in and land on a wooden prop the shape and size of Kevin James's real shoe. We made sure this shoe prop was built in advance and delivered to the trainer, who had five full days to work with the eagle and train her to land on the wooden shoe prop. An eagle is a very large bird so this was no easy task, which is another reason why we hired the Auger Hawk as back-up. Animals can be unpredictable, so experience is a key component to what we do.
An additional concern was the eagle's flight off the shoe and the length of the flight required to exit frame on the wide shot. The large, heavy bird needed to get an adequate lift in a short amount of time and have the motivation to fly to a perch located in the distance. In the end, both birds performed flawlessly as their trainers are master falconers. It was an incredible sight to witness, and the footage that resulted was outstanding.
In these types of projects, when our library doesn't have what the client needs, GSA will handle the entire shoot. We run all aspects of production including staff, crew, camera, equipment, insurance, payroll, and have American Humane monitor the set. Our approach is to take care of everything necessary to make it a smooth, turn-key, one-stop-shop solution.
We ensure that by working with GSA, the client will get better results with minimal stress to the animal. We then repurpose this footage in our online stock footage library, digitally preserving the animal's likeness for all time and saving it further stress in the future. Ultimately, this is our recipe for successful custom shoots.