FOOTAGE OF BENGAL TIGER STANDING ON A BOX AND ROARING ON GREEN SCREEN.
The Bengal lion belongs to the genus Panthera alongside its cousins the African lion, jaguar, and leopard.

Quick facts:
The tiger is the largest cat species, most recognizable for its unique pattern of dark vertical stripes on reddish-orange fur with a lighter underside.
The stripe pattern is so unique, that there are no two Bengal tigers with the same stripe.
The stripes have other benefits other than being eye candy. They help tigers to hide in the tall grass or dense forests, which make it very difficult for other animals to see them, especially at night. 
Bengal tigers or Indian tigers as can be often referred to, are native animals in the area of Bangladesh and India. The"Royal Bengal tiger" is another name that also refers to the Bengal tigers.
Even though the Bengal tiger is mostly native to India and Bangladesh, and is considered a national animal for both countries, it can be also found in other Asian places such as Nepal, Bhutan, Myanmar, and southern Tibet.
The Bengal tiger is one of the biggest wild cats alive. An adult female can weigh between 220-352 lbs (100-160kg), and a male can weigh 440-573 lbs (200-260kg) which is almost double the mass of a female Bengal tiger.
Bengal tigers' height and length depend on their sex,  An adult male generally measures  8.8-10 feet (2.7-3.1m) in length, while the female can measure 7.8-8.5 feet (2.4-.2.6m). In height, they can measure averagely between 2.9-3.6 feet (90-110cm) at the shoulder.
The Bengal tiger is one of the fastest wild cats, they can go to a top speed of 65km/h, but they can only do it for short bursts.
Footage details: Bengal tiger green screen footage
A Bengal tiger standing on a box, and roaring. You can use this clip as a simulation of nature and wildlife.
The Bengal tiger footage was shot using a green background in our GreenScreen Animals studios, with a RED camera at 23.98 @ 120 fps.
The clip is ready for production purposes and comes with prep-ready resolutions: 1080, and 2K. 
You can Download a free preview  or  Calculate an estimate for your next project.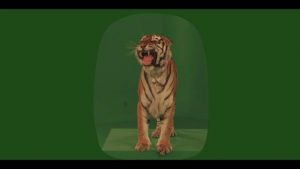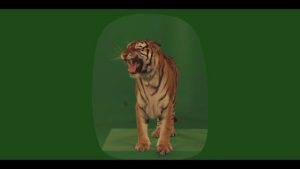 If you're looking for similar tiger green screen footage, take a look at these: