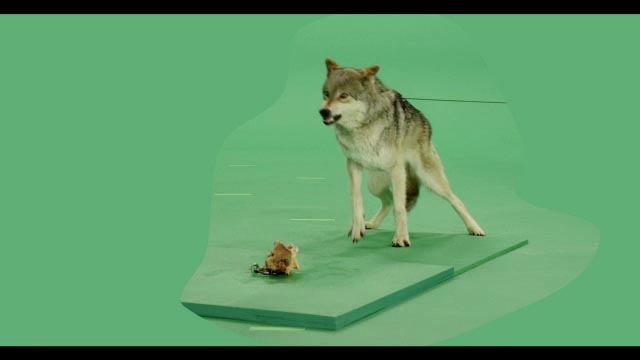 FOOTAGE OF A WOLF SNARLING FACING FORWARD ON A GREEN SCREEN.
Wolf is the largest extant member of the family Canidae, alongside foxes, and coyotes. Wolves belong to the genus Canis. They are 3 wolf species: Gray Wolf, Eastern Wolf, and Red Wolf, those 3 species include more than 30 subspecies.
Quick facts:
A wolf's body is characterized by long legs, large paws, eyes with excellent sight, large ears with impressive hearing abilities, and a long bushy tail.
Wolves -especially the grey wolf- probably first appeared in Eurasia sometime in the early Pleistocene period, about 1 million years ago. And it's thought to have migrated to North America, around 750,000 years ago.
Currently, they live in North America, Europe, Alaska, and Asia. They generally live in deserts, grasslands, forests, and everything in between. 
The size of a wolf depends on where the wolf lives. Northern wolves are usually larger than those who live in the south.
Despite differences, the average size of a male wolf's body is between 5 to 6.5 feet (152 to 198 cm) from nose to tip of the tail, while a female wolf is 4.5 to 6 feet (137 to 183 cm). And most wolves stand at 26 to 32 inches (66 to 81 cm) at the shoulder.
For weight, an adult female weighs between 50 and 121 lbs (23 and 55 kg), on the other side, a male weighs between 66 and 176 lbs (30 and 80 kg).
As mentioned above, the wolves from the north are the largest. Especially the Northwestern wolf (Canis lupus occidentalis) is the largest wolf with an average male weighing 137 lbs (62 kg) for males, and 101 lbs (45 kg) for females. 
Footage details: Wolf green screen footage
A grey wolf snarling face forward. You can use this clip as a simulation of nature and wildlife. The wolf footage was shot using a green background in our GreenScreen Animals studios, with a high-end RED camera. The clip is ready for production purposes and comes with prep-ready resolutions: 1080, 2K, 3K, and 4K.
You can Download a free preview or  Calculate an estimate for your next project.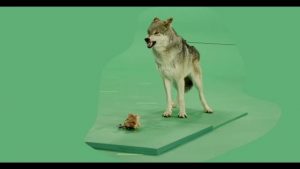 If you're looking for similar wolf green footage, take a look at these: