FOOTAGE OF A HORSE LOOKING FORWARD ON A GREEN SCREEN.
Horses are domesticated mammals that belong to the Equidae family. They are part of the Equus genus, which includes also zebras and donkeys.
Quick facts:
Horses can not be described the same way, as there are over 300 breeds around the world with some very obvious differences in color, body shape, and abilities.
But generally speaking, horses have short hair over the body, long tails, and oval-shaped hooves.
To have a more detailed description, we can take some breeds as examples:
Arabian horse:

A relatively small horse with a long neck, small head, large eyes, and short back. Widely recognized for its stamina and beauty, the Arabian horse is considered one of the most beautiful horses.
Thoroughbred:

An exceptionally long horse with thin skin and large eyes. Thoroughbreds have sloping shoulders and fine-boned legs with small hooves.
Shire horse:

Like Thoroughbreds, Shire horses have sloping shoulders. They have a short back with sloping croup, and their legs are heavily feathered.
As mentioned above, Horses have more than 300 breeds as of today. Those breeds have 3 categories:
Hot-bloods:

Have better endurance and speed abilities compared to other breeds.

Cold-bloods:

Very high strength ability that makes them very suitable for hard labor.

Warm-bloods:

Horses born from cross-breeding hot and cold-blood horses

. They are very popular for riding.
Horses have their own measurement system. A horse is measured by hand ( 1 hand = 4 inches = 101.6 mm ).
A Shire horse born in 1846 was 21.2 1⁄4 hands tall (86.25 inches, 219 cm), and was the world's biggest horse. 
While the smallest horse was born in 2001 in the USA. The horse measure only 4.23 hands (16.93 inches, 43 cm).
Otherwise, horses' weight and size vary from one breed to another.
SIZE: 
Arabian horse:

14.1–15.1 hands (57–61 inches, 1.45–1.55m)

Thoroughbred:

15.2–17.2 hands (62–70 inches, 1.57–1.78m)

Shire horse:

16–17 hands (64-68 inches, 1.63-1.73 m)

Appaloosa:

14.2-16 hands (56.8-64 inches, 1.44-1.63 m)

American Quarter Horse:

14.2-16 hands (56.8-64 inches, 1.44-1.63 m)

Dutch Warmblood:

15-17 hands (60-68 inches, 1.52-1.73 m)
WEIGHT: 
Arabian horse: 

795 to 990 lbs (360.5 – 449 kg)

Friesian horse:

1,300 to 1,500 lbs (590 – 680 kg)

Thoroughbred:

 990 to 1,100 lbs (449 – 499 kg)

Shire horse:

1,545 to 2,645 lbs (701 – 1,200 kg)

American Quarter Horse:

950- 1,200 lbs (431-544 kg)

Dutch Warmblood:

1,210 to 1,320 lbs (549 – 599 kg)
Footage details: Horse green screen footage
A horse looking forward, You can use this clip as a simulation of nature, domestic, and wildlife. The horse footage was shot using a green background in our GreenScreen Animals studios, with a high-end Panasonic camera. The clip is ready for production purposes and comes with a prep-ready resolution of 1080.
You can Download a free preview or  Calculate an estimate for your next project.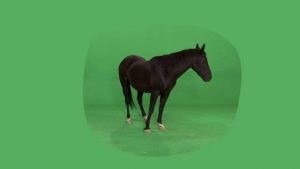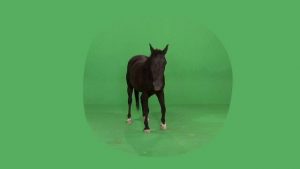 If you're looking for similar horse green footage, take a look at these: