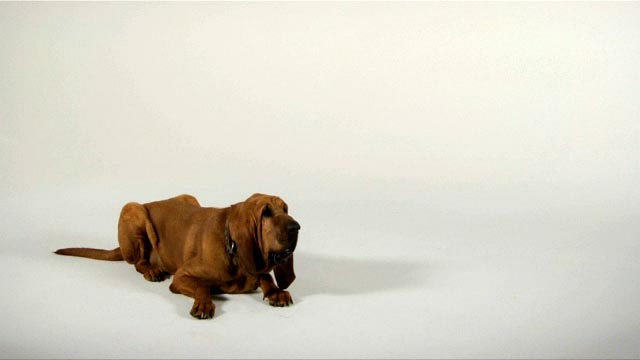 FOOTAGE OF BLOODHOUND DOG LYING ON THE GROUND, STANDING UP THEN EXITING ON WHITE SCREEN.
The bloodhound dog is one of the largest hunting dogs, with a very good scent ability. Bloodhound belongs to the Canis genus, which includes wolves, dogs, and coyote.
Quick facts:
Bloodhound dogs have 3 color combinations. Liver & Tan, Black & Tan, or Red.
They have long faces with deep-set eyes, that make them look like sleepy dogs.
Bloodhounds are patient, gentle, and well-mannered animals. The bloodhound is a friendly animal. They can get along with humans and even other animals.
They have great smelling abilities. They can pick up a smell even 300hours (12.5 days) old odor. Their short legs help them keep their nose near the ground, so they can catch scent easily. 
An adult bloodhound female can weigh between 80 and 100lbs (36 and 45 kg). The males are usually heavier, they weigh between 90 and 110 lbs (41and 50 kg).
An average bloodhound dog's size and length vary depending on its sex, an average female measures 24 in at the withers (61 cm), while a male bloodhound dog can measure 26 in (66 cm).  Males are usually bigger and heavier.
Footage details: Bloodhound dog white screen footage
A bloodhound dog sitting, laying on the ground, standing up, then existing. You can use this clip as a simulation of domestic life, and human-dog relationship scenes. The bloodhound dog footage was shot using a white background in our GreenScreen Animals studios, with a high-end Panasonic camera. The clip is ready for production purposes and comes with prep-ready resolutions of 1080.
You can Download a free preview or  Calculate an estimate for your next project.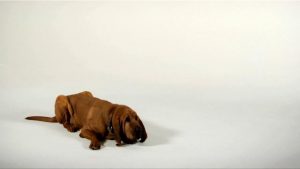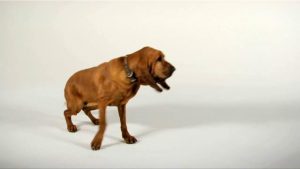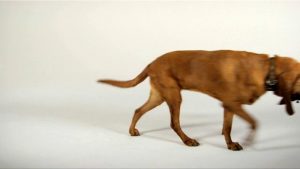 If you're looking for similar bloodhound dog white screen footage, take a look at these: