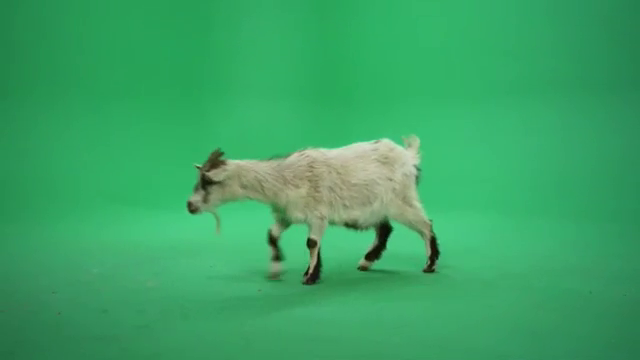 FOOTAGE OF GOAT CROSSING LEFT TO RIGHT ON GREEN SCREEN.
Goats are one of the Bovidae family, and they belong to the genus Capra. The goat is one of the earliest domestic animals. 
Quick facts:
Goats are smaller than their relative sheep. They have back-arched horns. Goats have straighter hair and short tail pointing up.
Male goats, called bucks or billys, usually have a beard. Nannys is the name for females. And immature goats are called kids.
Goat's horns never stop growing in their lifespan, unless they get removed. The horns can go up to 12 inches (30cm) long. Yet that depends on the species. 
Goats are probably Asian natives, as the earliest records show that they were domesticated by Persians.
The weight is something that's very variable in the goats' breeds. Each breed of goat has a different mass. They can go from 45 lbs (20kg) to 300 lbs (140kg), for an adult goat.
When it comes to the size and length measures, the goats can be 30 feet (76cm) in height and 39 feet (99cm) in body length.
They are likely to live between 15 and 18 years.
Footage details: Goat green screen footage
A goat crossing left to right on a green screen. You can use this clip as a simulation of nature and wildlife. The goat footage was shot using a green background in our GreenScreen Animals studios, with a high-end RED camera at 23.98 @ 60 fps. The clip is ready for production purposes and comes with prep-ready resolutions: 1080, 2K, 3K, and 4K.
You can Download a free preview or  Calculate an estimate for your next project.
If you're looking for similar goat green screen footage, take a look at these: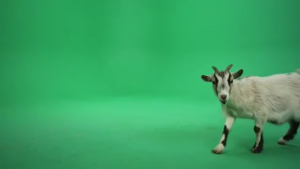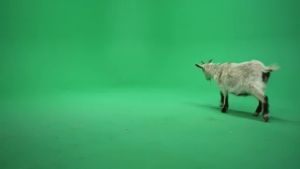 Video of goat stopping to eat from bowl, then exiting