FOOTAGE OF GOLDFISH SWIMMING TO THE TOP THEN LEFT ON A BLUE SCREEN.
Goldfish is a fish from the family Cyprinidae, and it belongs to the Carassius genus.
Gibel or Prussian carp (C. Gibelio) and the crucian or bronze carp (C. Carassius) are the best-known goldfish relatives.
Quick facts:
Goldfish wasn't always gold. Prussian carp which are related to goldfish are gray-green, but over the years, more than 100 varieties of goldfish developed their orange, red, and yellow skin patterns.
This skin color can change depending on the light levels. If the goldfish spent the night in the dark, the next morning you may notice the color appear faded. Usually, goldfish that are kept indoors tend to be less colorful than the ones that go outdoors and get more exposed to natural lights.
Speaking of lights, goldfish have great vision abilities. They can see ultraviolet and infrared light. Which, we humans can not see.
Goldfish are pretty adaptable creatures, they can adapt and deal with different temperatures. And they can live in very cold water with no problems, and even survive low dissolved oxygen levels.
Goldfish body weight is generally between 3.5-10.5 oz (99-297 grams), sometimes they can reach a maximum weight of 6.6 lbs (3 kg). In terms of size, they usually measure 4-8 inches (10-20 cm), and they can reach a maximum length of 23 inches (59 cm).
Footage details: Goldfish green screen footage
A goldfish swam to the top and then left. You can use this clip as a simulation of ocean life and domestic life. The goldfish footage was shot using a blue background in our GreenScreen Animals studios, with a high-end Panasonic camera at 23.98 @ 60 fps. The clip is ready for production purposes and comes with a prep-ready resolution of 1080.
You can Download a free preview or  Calculate an estimate for your next project.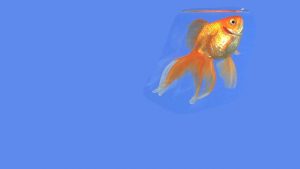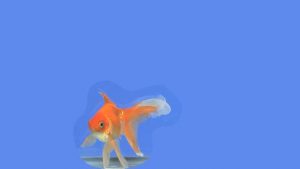 If you're looking for similar goldfish blue screen footage, take a look at these: