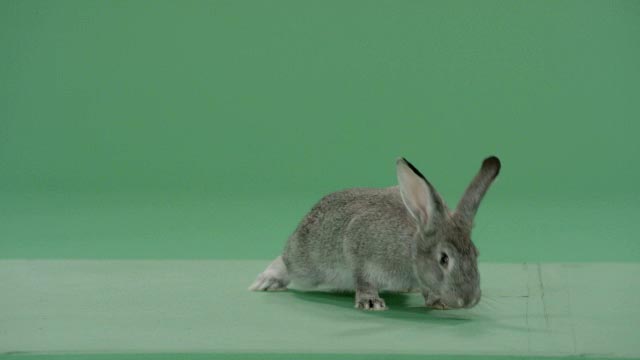 FOOTAGE OF A GREY RABBIT TURNING FORWARD AND THEN EXITING RIGHT ON A GREEN SCREEN.
Rabbits a.k.a bunnies are small mammals that belong to the family Leporidae. Rabbits have more than 300 domestic breeds: Florida white rabbit, Mini lop, New Zealand rabbit, and Pannon white, to name a few.
Quick facts:
As rabbits have so many different breeds, they can be different in body shape, size, set of their ears, and coloring.
The female rabbit can be called doe (just like the female deer), or coneys, the males are called buck (also like the male deer). 
Ps: Rabbit and deer are not classified as relatives.
Rabbits have long ears which can be as long as 4 in (10 cm), and they can turn them 180 degrees, which helps them spot the location of the sound they hear.
Rabbits were domesticated early in the 5th century by french people, in the Champagne Region, in the northeast of France.
Generally, rabbits live in grasslands, wetlands, forests, woods, and deserts. They are social creatures, they live in groups.
Rabbits are relatively fast animals, European rabbits can run up to 25 miles per hour (40 km/h) at top speed. They are good at acceleration, they can reach they are average speed very quickly and make turns without losing momentum.
They are good jumpers too, Rabbits have the ability to jump over 9 feet (2.74 meters) horizontally and between 3-4 feet (0.91-1.22 meters) high, which makes it very hard to catch them.
When it comes to weight and size, it highly depends on the rabbit breed. 
European rabbit: Weighs between 2.20-5.5 lbs (1-2.5kg), and measures 15 in (40 cm) in length. 
Eastern cottontail: Weighs 2.20 lbs (1.2 kg) on average, and measures 14 in(37 cm) in length. 
Footage details: Rabbit green screen footage
A grey rabbit turns forward and then exits right. You can use this clip as a simulation of nature and domestic life. The rabbit footage was shot using a white background in our GreenScreen Animals studios, with a high-end RED camera at 23.98 @ 60 fps. The clip is ready for production purposes and comes with prep-ready resolutions: 1080, 2K, 3K, 4K, 5K, and 6K.
You can Download a free preview or  Calculate an estimate for your next project.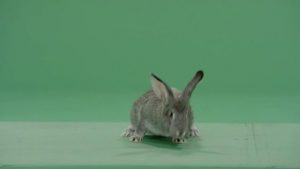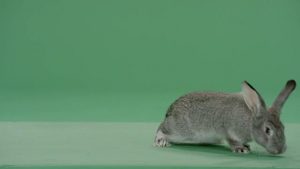 If you're looking for similar rabbit green screen footage, take a look at these: