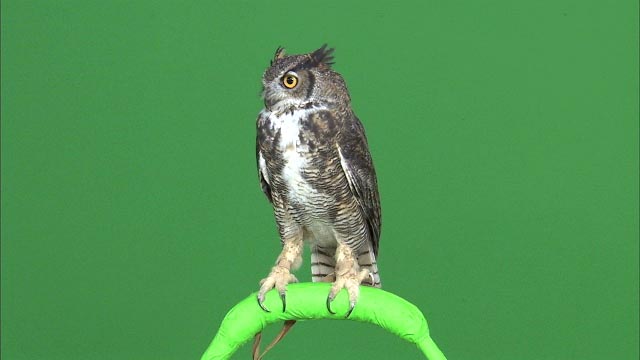 FOOTAGE OF A GREAT HORNED OWL LOOKING AROUND ON GREEN SCREEN.
Most types of owls belong to the family Strigidae, and Barn Owls (they are the ones with heart-shaped faces) belong to the family Tytonidae.

Quick facts:
Owls have 19 species around US and Canada, according to PIF databases.
Barn Owl

Barred Owl

Boreal Owl

Burrowing Owl

Eastern Screech-Owl

Elf Owl

Ferruginous Pygmy-Owl

Flammulated Owl

Great Gray Owl

Great Horned Owl

Long-eared Owl

Northern Hawk Owl

Northern Pygmy-Owl

Northern Saw-whet Owl

Short-eared Owl

Snowy Owl

Spotted Owl

Western Screech-Owl

Whiskered Screech-Owl

The body characteristics vary from one specie to another, but generally, owls have rounded faces with forward-looking eyes, and sharply hooked beaks.
Their forward-looking eyes give them binocular vision, which makes them capable of capturing the same with both eyes and have a 3D image, just like humans.
Owls can't turn their eyes, but they are able to rotate their heads up to 270 degrees.

Owls are one of the oldest animals discovered by humans, they were present around 60-57 million years ago.
Owls' size and weight change from one specie to another. The Eurasian eagle-owl (Bubo bubo) and Blakiston's fish owl (Bubo Blakistoni) are the largest species, the female from these two species is 28 in (71 cm) long, and weighs 9.25 lb (4.2 kg).
The smallest specie is the Elf owl. Its size range is 5-6 in (12-15 cm) tall, and 1.5 ounces in weight.
Owl females are slightly larger, heavier, and more aggressive than males, that's said for most of the owl species.
Footage details: Owl green screen footage
A great horned owl looking around. You can use this clip as a simulation of nature and wildlife. The owl footage was shot using a green background in our GreenScreen Animals studios, with a high-end Panasonic camera at 59.94 fps. The clip is ready for production purposes and comes with prep-ready resolutions of 1080.
You can Download a free preview or  Calculate an estimate for your next project.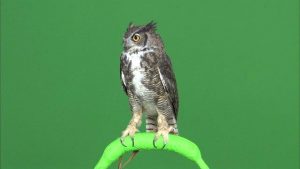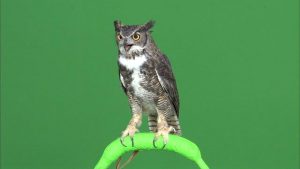 If you're looking for similar owl green screen footage, take a look at these: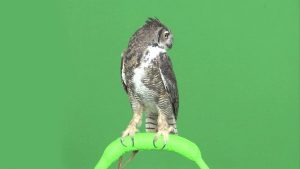 Video of great horned owl close up looking left and calling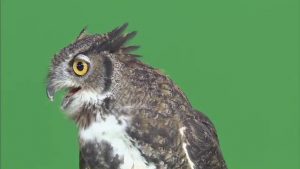 Video of great horned owl looking around rotating head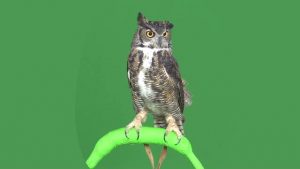 Video of Eurasian eagle owl turning head and looking around