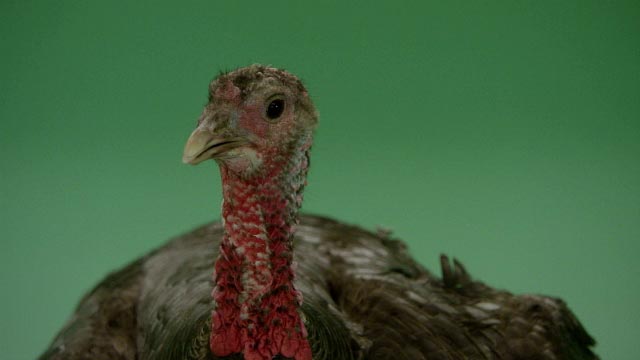 FOOTAGE OF TURKEY FACING FORWARD THEN LOOKING LEFT ON GREEN SCREEN.
Turkey is one of the Meleagris genus birds, pheasants, partridges, and grouse are the closest relatives to turkey species, which are: Wild turkey, Domestic turkey, Ocellated turkey, and Narragansett turkey.
Quick facts:
Turkey can be in black or white. This is how you can tell the difference between domestic and wild turkeys. Domestic turkeys normally have white plumage. The wild turkeys' plumage is mostly dark with a green part at the back. 
Turkey's head and skin color vary between red, blue, and gray. The changes depend on its emotional state. It becomes blue if the turkey's excited, and red means that the turkey is ready for a fight.
The long fleshy object over a male's beak is called a snood. It can be 1 to 6 in (3 to 15 cm). The length of the snood represents the male's health and mood.  
Despite its name, Turkeys are natively Americans. The wild turkey inhabits eastern and central North America and the ocellated turkey of the Yucatán Peninsula in Mexico. They were brought to Europe and Asia.
An adult male turkey can weigh between 11 – 24 lbs (5 – 11 kg), while the female can be a bit light, an adult female can weigh 5.5 – 11.9 lbs (2.5 – 5.4 kg).
An average turkey's size and length vary depending on its sex, an average female measures 2.4 – 3.11 ft (76 – 95 cm), while a male turkey can measure 3.2 – 3.9 ft (100 – 120 cm). 
Footage details: Turkey green screen footage
A wild turkey facing forward then looking left. You can use this clip as a simulation of nature and wildlife. The turkey footage was shot using a white background in our GreenScreen Animals studios, with a high-end RED camera. The clip is ready for production purposes and comes with prep-ready resolutions: 1080, 2K, 3K, 4K, 5K, and 6K.
You can Download a free preview or  Calculate an estimate for your next project.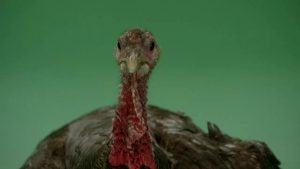 If you're looking for similar turkey green screen footage, take a look at these: