FOOTAGE OF ZEBRA WALKING TO THE CENTER, LOOKING UP, THEN EXITING LEFT ON GREEN SCREEN.
The African zebra is one of the Equus genus. family. Zebra belongs to the Equidae family with horses and donkeys.

Quick facts:
Zebra have three types: the Grévy's zebra (Equus grevyi), Plains zebra (E. quagga), and the Mountain zebra (E. zebra). The 3 species can be differentiated by their stripes pattern.
Plains zebra (

E. quagga

): The stripes connect underneath the belly. Some Plains zebra subspecies have a brown shadow between the black stripes.

Mountain zebra (

E. zebra

):  They have vertical stripes pattern on the neck and back, these vertical stripes become slowly horizontal at the hind legs.

Grevy's zebra (

Equus grevyi

): Grevy zebra has very thin closely packed stripes.

Their thick bodies make them look like mules with stripes.
Zebras are herbivore animals, which means they only eat plants. They need a lot of water to survive the African climate and drier season, a zebra alone can drink almost four liters of water in one sitting, which is more than double what an average human would drink throughout the entire day. They are migrating animals, they will travel up to 1100km in search of fresh grazing and drinking grounds. Although some zebra can survive for up to five days without water.

The three zebras are different in design and shape.
Grevy zebra weigh 770-990 lbs (350-450Kg), with a height of 5 feet (1.5 meters)

from shoulder to hoof.

Mountain zebra weigh 770-990 lbs (240-350Kg), they measure between 3.8 to 4.9 feet (1.16 to 1.5 meters) at the shoulders.

Plain zebras -the smallest of the three- weigh between 386 to 849 lbs (175-385Kg), and measure between 3.61 to 4.76 feet (1.1 to 1.45 meters).


Plain and Grevy zebras can both reach the same top speed of 40-43.5 mph (64-70 km/h). The mountain zebra tend to be a bit slower, reaching a top speed of 35-40 mph (56-64 km/h).
For the average lifespan, the three zebras live on average between 20 and 25 years in the wild.

Footage details: Zebra green screen footage

An African zebra walking to the center, looking up, then exiting left. You can use this clip as a simulation of an African safari journey. This zebra footage was shot using a green background with an Arri Alexa camera at 23.98fps.

This clip is ready for production purposes and can be purchased at the following resolutions: 1080, 2K, 3K, and 4K.

You can Download a free preview or  Calculate an estimate for your next project.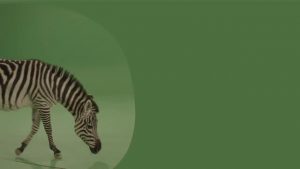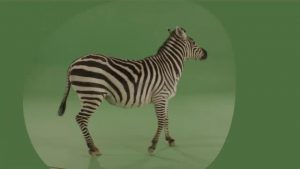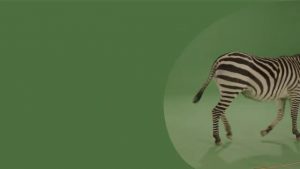 If you're looking for similar zebra green screen footage, take a look at these:
Video of zebra walking to center, eating food, then exiting left