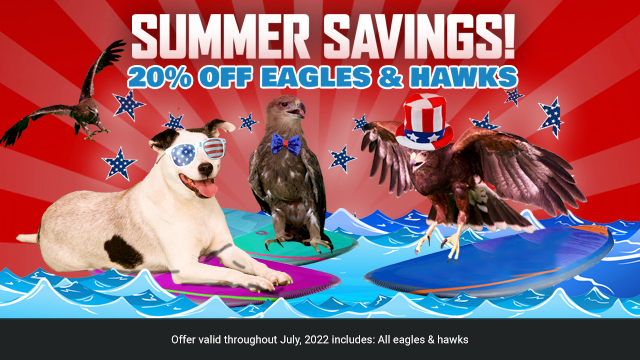 CELEBRATE 4TH OF JULY WITH GREENSCREEN ANIMALS! FOR THE MONTH OF JULY, TAKE 20% OFF ALL HAWKS AND EAGLES. 
It's July. Are you working on some 4th of July video project? Why not make it extra free and strong by adding eagles or hawks footage? Or add a live-action augur hawk to your independence day video project. Even add your high-flying tawny eagle. All these eagles & hawks, and more animals are available from GreenScreenAnimals.com and are on sale for our annual 4th of July Sale!
Independence day is here, and incorporating animals into your spot is a great way to improve the look of your video. Starting now through the end of July, GreenScreen Animals is making that easier to do with our annual July Sale.
Save 20% off your total when you purchase the following 4th of July animals:
Email our sales team at [email protected] and mention our 4th of July sale to add 20% off your next purchase.
Note: Discounts cannot be combined with any other discounts. The sale ends on August 1st.
Click here to view our Footage.